WELCOME TO THE KAYWA TICKET SCANNER!
This application helps you to scan Kaywa Tickets at events. Kaywa Tickets can be printed on paper or delivered via mobile phones and tablets: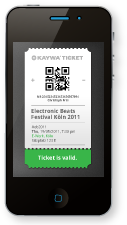 mobile ticket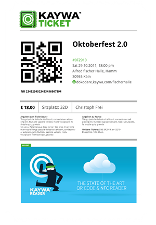 paper ticket
PLEASE NOTE THAT ON YOUR KAYWA TICKET SCANNER APP, YOU MUST BE
logged in with your Kaywa ID

and to be autenticated by the event organizer to be able to scan tickets at a particular event
Click on the calendar button to see which events you are allowed to scan.
HOW TO
To scan a ticket on your device, start the Kaywa Ticket Scanner App and verify that you are wll logged in.

Choose your event from dropdown menu (calendar button on top).


The two buttons with arrows on the lower part of the screen show you if you scan incoming or leaving guests. If the left button is highlighted, you are scanning entry tickets (normal case). Touch them to change to "out" if you need to scan people leaving the event (to revalidate tickets).

To scan, line up the phone so that the barcode on the ticket is completely inside the viewfinder markings of your camera.
If you encounter lighting difficulties, please reposition the phone. Try to scan in another angle or change the distance between the code and your mobile phone.

After scanning we immediately show you if the ticket is valid or not. We've also inserted pop-up messages to help you through the scanning process.
Please note that a ticket can of course be valid, but shown as invalid if scanning happens before the event starts.
Check out the demonstration video to see it in action!
EMERGENCY
If a QR code seems unreadable, try to reposition your device (for example to avoid a glare). Sometimes holding your camera closer or moving it away will help. If this doesn't help, restart the app and try again.